Hughes External Wall Insulation Specialists

SEAI registered professional & approved contractor.
What is exterior wall insulation?
The external walls of a house act like a barrier, retaining heat on the inside whilst protecting your property from the cold elements on the outside. External Wall Insulation is the perfect solution when looking to improve a properties heating energy performance and minimise heat leakage.

Insulation is more cost-effective when placed on the outside of a building, as it keeps the thermal mass of the concrete walls within the building envelope.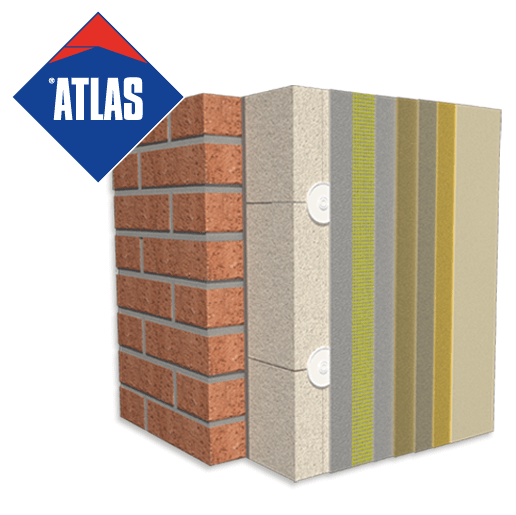 ATLAS/AVAL External Wall Insulation System is an external thermal insulation composite system (ETICS). Thermal insulation technology consists in application of polystyrene (EPS) boards upon the outer side of wall, installation of base coat with reinforcing fiberglass mesh and further application of finishing coat made of thin-coat render.

Designed and manufactured in Europe under strict quality-approved factory conditions. The system carries European Technical Approvals for all its products, and has been awarded the NSAI Agrément Certificate in compliance with Building Regulations.
Why insulate your house walls?
Retrofit - Many houses built over the past number of years have no cavity wall insulation or have an empty cavity with a dry lining slab on the inside of external walls.

Approximately half of the energy we use to heat our homes can simply leak out without insulation.

Insulation helps to save money on your energy bills. Wall insulation can save up to 25% of heating.
It improves your comfort at home and the outside of your house is renovated like new.

Reduce your energy use and lower greenhouse gas emissions which is good for the environment.
SEAI offer grants of up to €6,000 for External Wall Insulation installation in Ireland,
Hughes External Wall Insulation Ltd. are SEAI registered professionals & approved contractors.

"Declan's crew did a top class job from start to finish. They were very courteous and mannerly. The workmanship was excellent and we are delighted with the texture and colour of the final finish coat.

Colette and Declan​
"Professionalism, Quality, Responsiveness and Value."

Hannah
"Declan recently completed the external wall insulation on our home. I cannot recommend him highly enough. Thank you Declan!"

Brian and Martina
Call us today 087 9032774

Hughes External Wall Insulation Ltd. are external wall insulation specialists. 20 years experience in the building industry with 8 years of external insulation systems. A registered SEAI approved contractor. Our company is committed to providing quality products and unsurpassed service.